Garden Room and Garden Office Testimonials
Jonathan Yearsley, from Caergwrle in Flintshire, was keen to separate his business activities from his home life but wanted to avoid the need to commute so turned to Deeside-based Rubicon Garden Rooms, which has provided him with the "perfect" solution. Jonathan believes moving his base from a loft conversion to an impressive new outside studio will enable him to grow his business further. He said "What Rubicon Garden Rooms has provided me is absolutely perfect. I basically walk across the front of my garden to get to work. It's a brilliant internal space and the fact it's maintenance-free was the major selling point for me. Jonathan Yearsley, Wrexham, Flintshire
Catherine Williams founded Popcats Music Time singing and dancing classes for pre-school children, and is now rolling out franchises around north west England, with plans to open next year in Liverpool. Thanks to Deeside-based Rubicon Garden Rooms, the 41-year-old can now sit down with clients and franchisees in a "professional" office space rather than having to travel to meet them at busy coffee shops. Catherine, who was a primary school teacher for 15 years, said: "My husband Jon and I wanted an outdoor space that wasn't a summer house or just a shed, so that's why we approached Rubicon. What we've got is something that aesthetically looks solid and is maintenance free, plus its warm and comfortable throughout the year. I absolutely love having this space. It ticks all the boxes for me." Catherine Williams, Birkenhead, Cheshire
Businessman Adrian found the perfect solution to the stress and financial burden of renting an office - by having one built in his back garden. Adrian, who runs recruitment and consultancy firm Blackberry Jobs, says the low cost and ability to be home "within 30 seconds" makes his new business premises the ultimate base. The 62-year-old former chef from Gresford near Wrexham admits the final result "exceeded all expectations". "Everything was done so professionally. Nothing was a case of 'that will do' it was always 'it has to be right' which was so impressive." Adrian Parks - Gresford, Wrexham
"We did quite a bit of research into companies that make them and chose Rubicon Garden Rooms as we thought a synthetic material would last better and we liked their range. Here in the Garden Room I can switch the laptop on and keep up with conference calls at any time, which is important as we have manufacturers in America and the Far East. Having this Rubicon Garden Room just gives us a bit extra space and lets me get away from the house when I need to. Their team were great, they cleared up after themselves every day and I couldn't fault them at all. We're very happy with what we've got, it's a perfect, self-contained space with everything we need. and it makes a huge difference to my work-life balance." Nick and Paula - Halifax, Yorkshire
A seamstress whose skill at embroidering vestments for Catholic priests and church altar cloths is in such demand that she's created a special sewing oasis in her garden. "We did lots of research and even considered building over the garage. Then we found Rubicon Garden Rooms and they've done a terrific job - we're delighted" said Dorothy. The sewing room, which is 6.5m x 4m, has since been equipped with lots of storage space by Dorothy and Frank, a retired BBC audio manager.Frank, a member of Wilmslow Town Council and vice president of Wilmslow Dean Rotary Club, said: "The garden room is incredible, we are delighted with it. It's also low maintenance, which is very appealing and is a lovely place for Dorothy to do her sewing in peace." Dorothy and Frank – Wilmslow, Cheshire
"I wanted a purpose-built room and began researching what was out there," said Adrian. "Most seemed to be made of timber, which I didn't really want as they would take a lot of looking after. I came across Rubicon Garden Rooms and their products really appealed as they are incredibly low maintenance and well insulated. Model flying was something I had been interested in for a long time, as well as an interest in engineering,which helps when you are building model aeroplanes". He added: "I knew what I wanted and this was completely understood by John at Rubicon. Building the Garden Room was a challenge due to the layout and uneven nature of our garden but it all worked well in the end and I now have a light, well insulated, low maintenance room which I really enjoy being in." Adrian - Wilmslow, Cheshire
"We did an awful lot of research and found Rubicon online. We drove across to Deeside to have a look at their showroom, and all the different examples on display

.

We liked managing director

John

Lyon a lot and his approach gave us confidence to start the process.

All in all, it took a couple of months from deciding that we would have a Garden Office

until the team arrived

on site as they were very busy and we needed to book a delivery slot well in advance

.

Then they were here for about three weeks for the installation which included drainage and water supplies for a toilet and mini kitchen.

The team were lovely guys

–

no nonsense and very diligent, polite, hard-working people. Dave likes to cook a bit

–

mainly cakes and pastries

–

so he baked things for them, which always helps to keep the team happy..!

We now have a beautiful extra Garden Office room, which

Dave uses when he

's

working at home.

He has a 30 second walk to work in the morning, and it means we are no longer in the way of each other

.

I believe that the building is also a thing of great beauty and I would absolutely recommend Rubicon to anyone considering something similar".
David and Rachel - Manchester
"Rubicon's extension been fantastic, and it has really changed Ray's life. It's very warm and fully insulated, light and comfortable - it is easy to look after. We can get Ray in and out of bed and into his wheelchair much more easily, and it means that he has somewhere to go that's his, for some quiet time. He loves sitting by the big window watching the birds and wildlife, or enjoying the views of the garden. The extension is very well made and went up quickly, and has changed our life. It means Ray has somewhere to sit, and we haven't lost our lounge. When our three grandchildren come round, they love to go into his room and see him. I can't thank Rubicon enough for the help their team have given us, they have been brilliant".
Ray and Josie - Mancot, Flintshire
Independent financial advisor Andrew Elskamp, who works under Station Associates Ltd, approached Rubicon Garden Rooms about a garden office solution for his home in Clevedon, Bristol. "We had space at the end of the garden, which was basically a dumping ground and so now I have a 5.4m by 2.7m garden office. "It's the best decision I ever made." Andrew chose Rubicon Garden Rooms because of the composite cladding used in its garden rooms. The cladding is eco-friendly as it is 87 per cent recycled content using wood that's sourced through sustainable forestry. The result is a building with the natural look of timber, which is UV stable, colour fast, and handles extreme hot and cold conditions with excellent weathering properties. "Rubicon Garden Rooms MD John Lyon visited site personally to over see things, and they built it all within two weeks," said Andrew. "The job they did was first class and I would definitely recommend them. It's an asset to the house and gives you that extra bit of space." Andrew Elskamp - Bristol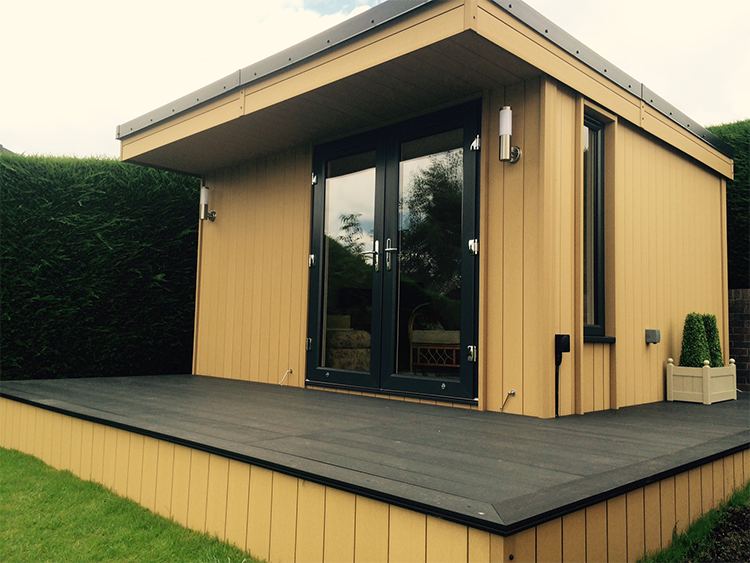 Please convey my thanks to everyone and we were very touched at your kindness. You were all an absolute pleasure to have around and it felt very quiet without you!! We are absolutely thrilled with the Garden Room and have now moved in the furniture and we are like pigs in muck!!! Many, many thanks once again, we are absolutely delighted with our Garden Room. After you left Heather sat on the decking with a glass of wine, this is the life! Take care and you all have a safe journey home tomorrow. Thank you once again.
Andrew and Heather - Ruthin, N.Wales
We trawled through the internet and Rubicon Garden Rooms sounded like the best bet for what we were after.

We made an appointment and went down to the showroom on Deeside. There we

met M

anaging Director

John

, spent time looking at the different examples on show and examining the products, and then had a good chat about what we needed.

We never felt rushed or pressurised, and had time to think about what we wanted - his whole manner makes him such a good person to deal with. We felt that we were getting a good product.

What Rubicon offered was perfect for what we wanted and, once we started the process with them, the work was done in just two to three weeks. The team turned up every day at the time John said they would, and were polite and very easy to get along with. Having them here working in the garden was no trouble at all and I would recommend Rubicon Garden Rooms without a doubt. I can say hand on heart that John and his the team from Rubicon Garden Rooms were the nicest people we have ever had work for us.
Dennis and Val - Stockport
"As a film buff, I wanted a home cinema and the option of creating an extension to the house was just too costly, so a Garden Room seemed like the best option. Once we decided what sort of thing we wanted we did an internet search and Rubicon's came up. We went up to see the showroom in Deeside and we were really impressed.
All the detail we were looking for was there and the price was right. John knew our budget and was able to give us what we wanted for that and, once we'd placed our order, his team installed it three weeks later.
In total
Rubicon were on site for two weeks and all the staff were absolutely excellent – we couldn't fault them at all. You don't often find that level of attention to detail these days: I can't recommend them highly enough."
Paul & Caroline - Frodsham, Cheshire
One of our disabled tenants required access to ground floor facilities, including a bedroom and bathroom. This need was urgent, so instead of a traditional build, which would be highly disruptive to the tenant, we approached Rubicon Garden Rooms who provided a high quality Garden Room attached to the property, which has the potential to be reused elsewhere in the future. We were delighted that Rubicon were able to quickly provide this essential modification to the property that met the council's rigorous standards for such work.
Cllr Helen Brown - Flintshire County Council
Dear John, Thank you very much, all very professional from your company throughout the construction and installation.

I cannot find anything on your website, but if there is somewhere where I can place a review or recommendation I will be pleased to do so.

Please just send me a link.

As and when the garden, now under snow is complete, I will forward some photos, probably June the way the weather is. I have received a letter from Flintshire County Council asking for me to comment on your services. Just to let you know that I am returning it, highly recommending your company. All the very best to you and your company in the future. We are really pleased with our Garden Room and I would not hesitate in recommending you to any future customers. Just ask them to call me.
Mick and Barbara - Burnley, Lancashire
Hi John, Just got back from a couple of days in London. I can confirm that invoice has arrived and has been paid. Many thanks for ALL your work. At our little garden party last Sunday all commented on the new Garden Studio - and one chap has examined it thoroughly (!!) and will contact you to arrange one for himself. All like the grey!! Hope you have a lovely Christmas, and hope we can keep in touch. Best wishes. PS Jan will send you photos with some plants in front!
Stephen and Jan - Hawarden, Nr Chester
We wanted to get a Garden Room that David could use as a separate office that was peaceful and quiet when he's working from home. We liked what we saw at Rubicon's showroom in Deeside straight away, and got on very well with the MD John Lyon – he immediately gave us the confidence that he would deliver what he promised, and he did. We took one of their standard Garden Offices and adapted it so that it would work for us, and nothing we suggested was a problem for Rubicon – they were really good to work with. They kept me posted all the time about what was going on, what stage they were at and who would be coming and what they would be doing the next day. They tidied up after themselves too, and really minimised any inconvenience. What was very important to me as well was that we had my elderly father staying with us at the time, he was 85, and they were so very respectful to him. Everyone from the young apprentice to the seasoned builders treated him brilliantly and talked to him about what they were doing every day while I was out at work. The Garden Office is lovely and warm as it's fully heated, and so can be used all year round. I would most definitely recommend Rubicon Garden Rooms to anyone.
David and Kate - Frodsham, Cheshire
I saw Rubicon Garden Rooms online and wanted to find something that was nearby so that I could go and see what they were doing and talk to people face-to-face about it. I went along to the showroom in Deeside and I was very impressed with what I saw, and with the Managing Director John Lyon. I nearly ordered a conservatory but changed my mind at the last minute when I realised that one of these Garden Rooms would be nicer and much more use to me all year round. It was quite an investment so I took some time to think about it but eventually I decided to go for it and treat myself, as I was still working but also had my pension coming in. I went back for another chat and told them what I wanted and they just came and did it. They knocked down the old lean-to and started again and created this lovely room, leading on from my main living area. Rubicon Garden Rooms were just lovely to work with and did everything I asked. From the very beginning they gave me good advice and guidance and made it a really easy process throughout – I'd definitely recommend them to anybody else looking to extend their home simply and quickly.
Beryl - Talacre, N.Wales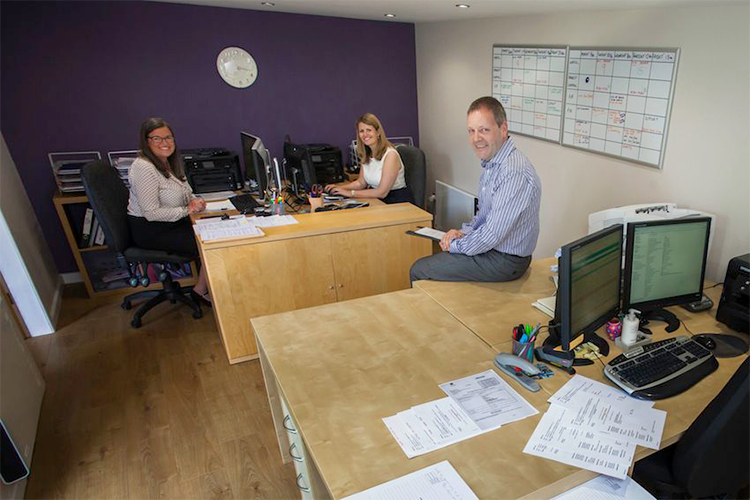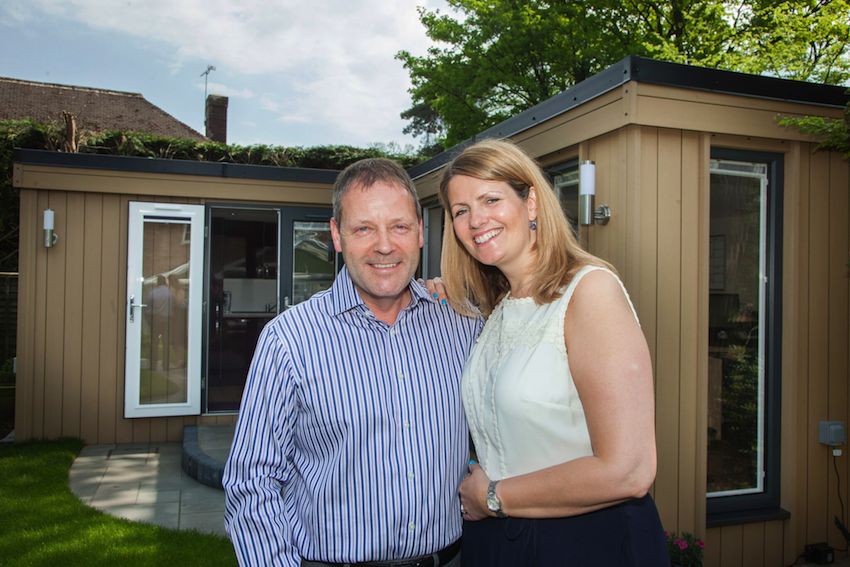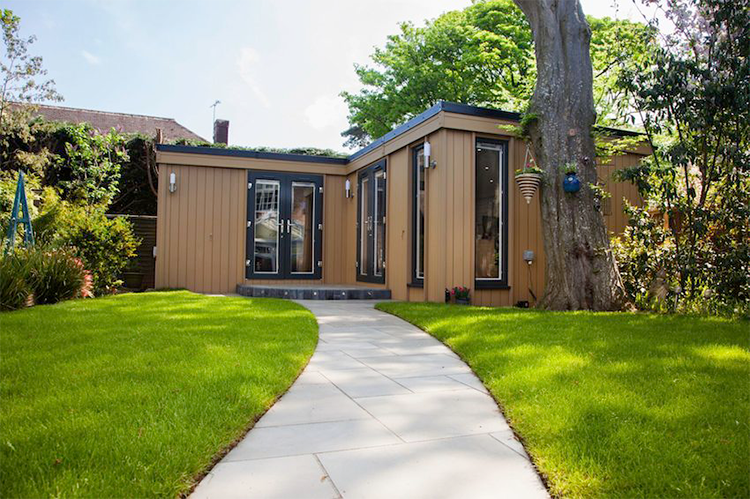 We had an

office on a local business park, but being able to move into our own premises here has

been a wise business move. We've

got the perfect, self-contained space with everything we need. We can now open our French doors and have lunch on the patio in a lovely established garden, which is something most people would love. We did a lot of research and found that t

he prices were all very similar," said Julian.

"

But what we liked about Rubicon Garden Rooms was the fact that we could go and see their factory in Deeside and the examples they had on show. We also visited a few completed buildings and talked to the owners and we heard nothing but positive feedback so we decided to go with them. Most of the structure is prefabricated at Rubicon's base and then they come and slot it together on site. They were great to work with – they were all very competent and everything I asked of John and his team, they delivered.
Julian and Kerry - Little Sutton, Wirral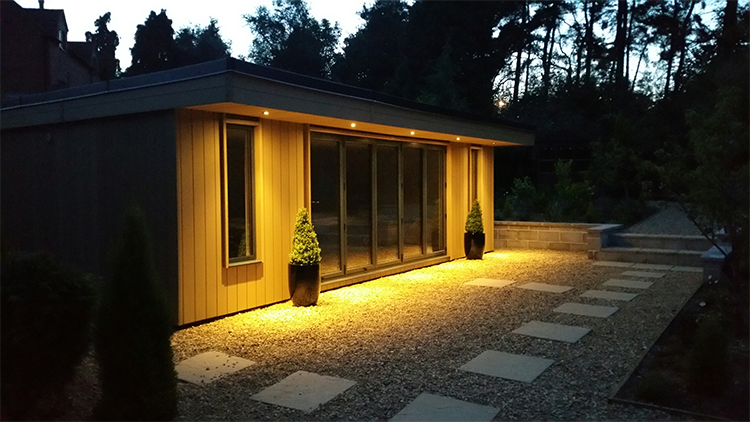 Hi John,

Hope you have enjoyed your weekend! Building is brilliant, we are extremely pleased with it, plaster is drying out nicely. I have sent over the last payment to your bank this evening.....On behalf of Clare & myself, I would like to thank You and the build team, and not forgetting the window guys... for all your hard work and excellent eye to detail on our lovely pool room! Will let you know when everything is completed and you are welcome to visit with your Marketing PR person if you need any further photo's. Look forward to meeting up for a cuppa soon :)
Colin and Clare - Leicester
Hi John - Apologies that I wasn't around on Friday to say thank you in person. Susan and I are delighted with the garden room and are sure it will be a great asset to us going forward. I wanted to say thank you to all the guys who worked on it and compliment them all on their workmanship … it was fantastic to see. I confirm that I made the final payment on Friday morning. Please let me know if you have not received it. Many thanks again. Great job! Ged and Susan - Warrington, Cheshire
NCAR fund-raising manager Nicky Owen, whose parents Anne and Neil run the centre, said: "It's been exciting seeing the cafe take shape, John and his team worked very closely with us on the design of the building, and helped us to meet the strict conservation planning requirements. As the work has progressed we have been kept fully informed and been able to discuss every aspect with John. I am full of praise for his level of customer service. I am delighted that we chose Rubicon to construct the cafe, and we are also very grateful to John for the extra charitable discount he has given us. The building is very well insulated, which means our running costs will be low, and we liked Rubicon's green approach, which has limited the amount of concrete that was used." Nicky Owen - Fund Raising Manager
"I've always worked from a company's office but in the last five years with faster broadband and employers becoming increasingly more flexible I've been able to work from home," said the 44-year-old. "The garden room is an office during the day but has a home cinema for the evenings and is very much a 'man cave'. Stuart was highly impressed by the professionalism of Rubicon Garden Rooms in transforming his vision into reality. "We're right at the top of a hill and we get battered by strong gusts and I had some doubts whether the structure would be strong enough but it's solid as a rock. I would recommend Rubicon to everyone. "In fact, we're hoping to move to Llandudno and so I will be on the phone again no doubt for a new one in my next home." Stuart Haynes - Halkyn, N.Wales
Businesswoman Ruth Brockley, who runs Laser Clinic North Wales, has installed a new garden room in the grounds of her premises in Menai Bridge. "I thought a garden room would be perfect to provide valuable extra space. It has been built in an empty area to the rear of the premises, which wasn't being used to its full potential," said Ruth, who runs the laser clinic with her daughter Ellen. "I was really impressed with Rubicon's managing director John Lyon as he understood our business and what we wanted. The room is six and a half metres by three and a half metres and is absolutely stunning. It took just a couple of weeks from the start of work to completion, so there was very little disruption to the business. I'm delighted with it, and I am confident the new space will be an asset to our business and allow my company to grow, while supporting Sarahjane in developing her client base. In fact, I was so impressed with Rubicon that they are now creating an extension attached to the main clinic building for me. In that room I will be installing a second laser machine, so enabling me to expand the company even more, to meet to the increased demands for our services." Ruth Brockley - Anglesey, North Wales
Dear John, Many thanks to you and your friendly team for all your hard work here. We are very happy with our studio and I'm looking forward to seeing Ed peering out of the extra window to check if it is time for tea.. .Thank you to everyone: Martin, Buster, Caleb and yourself, for all your work. You took a great deal of care to minimise the disruption to me and to keep things tidy, even in some awful weather, and your craftsmanship is of a high standard. Your team members are friendly, helpful and polite and it was great to see the experienced members support and train the young apprentice. Many thanks from Ed and me. Fiona Collins - Corwen, North Wales